---
OUR MISSION
To advocate the advancement of the BPO industry
To promote Quality of Service among our member-Providers
To recognize our Social and Civic responsibility
To ensure the success of new BPO business partnerships by helping overseas companies find the right BPO Provider in the Philippines
OUR VISION
To lead the BPO Industry to its full potential
---
Philippines OR India?


"A survey by Kelly Services, Inc. based in Michigan, showed that India is no longer the first choice of U.S. companies looking to set up their offshore backroom operations. The study cited companies eyeing the Philippines as the better site due to quality."
"The Philippines probably also has the highest agent productivity in the region. For instance, take the handling of all calls. According to the study, agents in the Philippines handle an average of 98 inbound and 107 outbound calls per day while the numbers for Indian agents are 73 and 78 calls respectively."
"India also faces an unfavourable staff turnover of 31 per cent with 67 per cent of the job-switchers moving to other competing call centres. As a result, staff tenure in India is the lowest at just 11 months while it is the highest in South Korea at 24 months followed by 19 in the Philippines."
[http://www.kellyservices.co.in]
"A recent decision by Tampa-based Sykes Enterprises to relocate a call center from its Bangalore, India facility to other more strategically-aligned offshore facilities in the Asia Pacific region in the Philippines, illustrates some of the challenges associated with offshoring, reports The Motely Fool, following up on a report in the Tampa Tribune. Apparently, some customers were having trouble understanding the accents of the company's Indian staffers when they called for service."
[http://www.shrm.org]
How does outsourcing impact the economy of the US and the outsource provider?
Diana Farrell of McKinsey Global Institute (MGI) calls it a win-win situation.
"Offshoring will allow the U.S. to capture economic value through multiple channels:
Reduced costs - Savings from reduced costs means more savings, which can be passed to consumers or to investors to reinvest.

New revenues - Offshoring creates demand in destination countries for U.S. products, especially for high tech items.

Repatriated earnings - Several providers serving the U.S. market are incorporated in America, which means they repatriate their earnings back into the U.S.

Redeployed labor - U.S. workers who lose their jobs to offshoring will take up other jobs, which will in turn generate additional value for the economy. "
"Of the $1.45 - $1.47 of value MGI estimates is created globally from every dollar spend a domestic company chooses to divert abroad, the U.S. captures $1.12 - $1.14 while the receiving country captures on average 33 cents. In other words, the U.S. captures 78 percent of the total value."
[http://www.mckinsey.com]

[Paid Advertisement]
FACT #1: EUROPEAN, AUSTRALIAN & AMERICAN COMPANIES THAT HAVE ALREADY OUTSOURCED TO THE PHILIPPINES ARE NOW SAVING 40% TO 60%. IN JUST 10 YEARS, THE PHILIPPINES HAS BECOME THE #1 DESTINATION FOR CUSTOMER CARE OPERATION.
FACT #2: PHILIPPINES PROVIDES A CONDUCIVE ENVIRONMENT FOR THE BPO INDUSTRY WITH ITS STRONG TELECOM INFRASTRUCTURE, STABLE ENVIRONMENT, ECONOMIC INCENTIVES AND CAPABLE HUMAN RESOURCES.
FACT #3: EVEN INDIA BPO PROVIDERS PARTNER WITH OR DIRECTLY SETUP IN THE PHILIPPINES TO CAPITALIZE ON HALLMARKS OF THE PHILIPPINE BPO PROFESSIONALS: HIGHER PRODUCTIVITY, LOWER TURNOVER, BETTER CUSTOMER CARE, AND NEUTRAL ACCENTS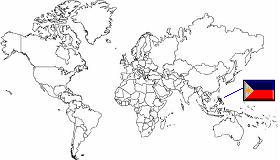 The Philippines emerged as the Winner of the 2009 Offshoring Destination of the Year Award given by the National Outsourcing Association (UK).

Major companies that already operate in the Philippines (inhouse Line of Business) include AIG, AOL, Barnes & Noble, Chevron, Citigroup, Dell, HP, HSBC, IBM, Intel, JPMorgan Chase, Motorola, Procter & Gamble, Siemens AG and Trend Micro.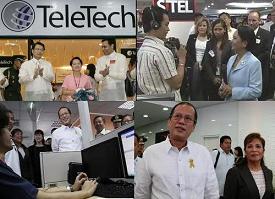 The Philippine Government has a strong, continuing commitment to support and sustain the growth of the Business Process Outsourcing industry. The Administration of President Benigno Simeon Aquino III has taken concrete steps in advancing all subsectors of this industry. Lower photos show President Aquino during his visit to Convergys barely 2 months after his inauguration in 2010. Upper photos show his predecessor Gloria Arroyo on site tours during her term.
Companies that outsource to BPO providers include financial giant WaMu Washington Mutual, Sallie Mae and Expedia (accounts outsourced to Aegis People Support), Quickbooks developer Intuit (outsourced to Stream, now in partnership with eTelecare), Transunion, Alltel and MSN-Microsoft (accounts outsourced to Sykes), Bellsouth and AT&T (accounts outsourced to Convergys). There are numerous operations that either support larger vendors during seasonal demands, or directly service Small and Medium overseas companies. A number of India-Philippine joint ventures also exist.
The BPO industry in the Philippines is fueled mostly by customer care, medical transcription, software development, animation, and shared services. Though customer care call centers form the largest part of the BPO boom locally, the Philippines' language proficient information technology, human resource, and finance/accounting professionals are significant contributing factors as well. The proficiency of many Filipinos in English is a major factor in the growth of BPO in the Philippines.
About Us
The BPO Services Association Unlimited (BSA/U) was formed in 2006 as a private-sector led organization to aggregate the collective interests of Business Process Outsourcing (BPO) providers. BSA/U members include Call Centers, Contact Centers, Transcription, KPO, DPO, LPO, Application Development and Maintenance, Animation, Graphics and Web, Engineering and CAD service providers throughout the Philippines. BSA/U advances the BPO industry through advocacy, supporting BPO -related Government programs and initiatives, promoting best practice and service excellence among its member-providers and by aiding in the establishment of mutually-beneficial relationships between Overseas Customers and BPO Providers.
Our members vary in size from 10 to 600 to 1,200 to 7,000 staff. The BSA/U just has under 200 members, with streadily growing membership.
BSA/U complements efforts of Contact Center Association of the Philippines (CCAP, 2001) and Business Process Association of the Philippines (BPA/P, 2004) that represent the industry in Government policy formulation.
We welcome SME-level operations to support the SME Agenda of the Department of Trade and Industry in view of its increasing role. The SME sector is the backbone of the Philippine economy. It comprises about about 99.6% of all registered firms nationwide employs 69.9% of the labor force, and contributes 32% to the economy (DTI).
As the number of BPO startups multiply, it has become an urgent matter ensure the continuing level of quality and customer service that has become the hallmark of the Philippine BPO industry. BPO is now a significant component of the Philippine economy with its increasingly contributing to the Gross National Product. IT and IT-enables services and ICT support services is one of the 11 identified as Preferred Activities under the Investments Priorities Plan outlined in Board of Investments.
BSA/U is funded by its Members, Partners and Sponsors as well as its revenue generating activities such as Technical Services and Management Consultancy.
---
2012 BPO Service Excellence Star Awards preparations are now on-going. This is to recognize BPO companies - both veterans and startups alike - who have shown commitment to excellence.

Nominations are now open in all categories. Gold Rated members are automatically included in list of nominees. Bring recognition and prestige to your company! Let us know about your achievements and innovations.
---
2012/13 BPO Suppliers Directory

[UPDATE: BSA/U is seeking a Publishing/ Advertising Partner to fully handle the soliciting and publication of the 2012 Suppliers Directory. We have taken this decision to enable us to focus on our primary mandate. If your Company is interested in the project and you have experience and track record, please contact us]
Are BPO companies and highly salaried BPO workers part of the target demographics of your products and services?

BSA/U can put your ad right in their hands!
Whether you are a supplier/provider of training services, furnitures, stationaries, computers&accessories, or benefit/reward items like travel and tours, spas, or high ticket items like cars, real estate, being in the directory will widen your reach!
The printed directory will be distributed to over hundreds of local, multinational and joint-venture BPO companies (including BSA/U members) and made available for sale in bookstore chains. We are undertaking this project in response to suppliers who request access to our members: as it is against BSA/U policy to sell or rent its members database, the BPO Suppliers directory answers the needs of both members and suppliers, while respecting the privacy. Watch this website for more announcements! This is a rare opportunity to reach your target market at less than half the cost of alternatives.
---
Solutions Providers
BSA/U and selected members have worked with the following Solutions Providers with positive results:

Lowest-cost business-grade VOIP to the US now offered to BSA/U members at US$ 0.01 (1 US cent) per minute under special agreement with fully accredited provider has a full Technical Team at their NOC based in Makati. Contact us to be endorsed. Regular rate is 1.1 to 1.2 US cents/minute.

Lowest-cost business-grade web hosting, cloud computing, hosted email solutions, hosted sharepoints.
---
As per BSA/U Charter, we do not sell our member database to external parties to prevent unwelcome marketing efforts by unaffiliated Third Parties. Contact us if you wish to advertise on this website as Sponsored Link. Rates start from P 4,000.00/mo.
---
BSA/U accredits specific pre-qualified providers based on known performance and agreement to provide preferential treatment and pricing to all BSA/U members. We have providers for the following services:



SET UP OF ASTERISK-BASED PABX AND DIALLERS - At est. P 180,00.00 vs. commercial rate of as high as P 350,000.00

HR/ RECRUITMENT - To counter the high turnover observed in small/medium Call Centers, our working committee has resolved to endorse the outsourcing of the HR and Staffing EVEN BY SMALL/ MEDIUM Call Centers to enable them to meet all labor laws on benefits WITHOUT requiring overhead activities to comply with SSS, Income Taxes, PhilHealth, PAGIBIG. This addresses the basic concern of staff that has been the primary cause of turnover and viewing small centers only as a training ground.
In the News:



BSA/U interview/ commentary on House Bill filed affecting the BPO industry. Segment aired Feb 16, 2011 on GMA

BSA/U on Inquirer.Net "NASDAQ-listed firm to put up call center" [or PDF Format]
BSA/U on PNN "SMEs encouraged to prepare for role in $11 Billion Outsourcing Industry"
BSA/U on PR Zoom "Association of Philippine-based BPO Service Providers Confident on Reaching $4 Billion in Revenues"
BSA/U speaking engagement invitations as Representative of BPO Sector (Government-organized Events):
Trans-Regional EU-ASEAN Trade Initiative (TREATI), 23-24 June 2008, as recommended by the Department of Trade and Industry - Bureau of International Trade

Conference - Workshop on Business Development for State Universities and Colleges 11-13 June 2008

Photo Gallery
Others (Private-Sector Events):
Emerging Business Opportunities (Metro Manila, Baguio, Cebu) - Session: Getting Started on BPO - January- February 2006
Emerging Business Opportunities (Metro Manila) -Session: Getting Started on BPO - Dec 2006

InfoTech Roadshow (Metro Manila, Baguio, Cebu) - Session: Best Practices for BPO SMEs - March 2007

Opportunities in BPO (Metro Manila) - Session: Planning Your Entry into BPO - June 2007
SME Negosyo (Metro Manila) - Session: Call Center Setup - Nov 2007
Internet and Gaming Event 2008 - Session: Preparing your InternetCafe for BPO - June 2008

Outsourcing Expo 2009 / Business Outlook 2009 - Session: Risk Assessment for New Ventures - Dec 2008

Photo Gallery
Ex ternal Links:

.
Fraud Alerts/ Potential Problematic Accounts
The following persons and entities operating in the Philippines are suspected of fraud or high likelyhood of difficult dealings. We advise caution in transacting with them and recommend that you document dealings with them for your reference should you need to take legal action in the future. These may be aliases:


"Jeremy Musni" (Case filed at Makati RTC)
"Catherine Musni" (Case filed at Makati RTC)
"Vincent W. Khan"
"Chris Trevor"
"Jorge Ruiz"
"USG Info-systems" (not to be confused with USG Corp)
"Randy Kanusher Raleigh NC. Internet Co usayellowpagesonline.com"

If you believe other entities or persons should be added here AND you have documentary evidence, you may contact fraud_alerts@bsau.org. Note: BSA/U is not a provider of legal services. However, we can recommend legal practitioners who can assist you in pursuing actions wthin the Philippine legal system. If your problem is still in the "collection stage", please be advised that payment delays are not considered fraud. We have an affiliated US-based entity that can aid in collection effort for US-based accounts
You may also lodge a complaint with the US-based Better Business Bureau via the link below: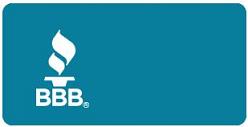 Call Center Directory
Call Center Directory is the No. 1 online resource for information regarding call center industry
Philippines Directory
ANNOUNCEMENTS
[

Events ·Projects/Opportunities · Seat Leasing Offers · Solutions Providers/Ads · Industry Stats · Fraud Alerts]
SPECIAL ANNOUNCEMENTS
We are encouraging all providers to have contigency plans for Internet connectivity failure. Members located in the areas below are entitled to rapid installation of 1Mbps to 10Mbps at BSA/U-negotiated rates as low as below US$500.00 MSF. e-mail your requirements to internet@bsau.org .



Seeking a new site for your Philippine operations? We have select accredited facilities in Makati CBD (Pacific Star), Ortigas CBD (Orient Square) and starter facilities in Pasig. Incubation site is also available in Makati (site is formerly owned by BSA/U but provative August 2011). Incubation site allows uptake of as low as 3 seats. Contact us for endrosement.



INDUSTRY EVENTS
No upcoming events. Holding a BPO event? Let us know! e-mail events@bsau.org

Concluded BSA/U Supported Events (Partial List)

Manila 01-02 August 2012

As Supporting Organisation, BSA/U members are entiled to discount
Click here for more information.

Shared Services $ BPO in the Philippines. 15-17 November 2011. . Click here for more information.

The Global LPO Conference – New York City "The New Financial and Procedural Paradigm for Lawyers Worldwide" is a major event with more than 100 international general counsels, law firm partners and LPO executives from the United States and over 12 countries expected to attend. The goal of the two-day New York conference is to continue to improve joint ideas, techniques and procedures while fostering and encouraging teamwork among the services providers and buyers. Discounts to BSA/U Members. More info here.


The Global LPO Conference 2011 – Buyers and Vendors Meet in The UK will address the transformation in the way in which legal services are increasingly delivered. Nearly 100-150 key executives with extensive interests in the legal outsourcing industry from across the world are attending the Global LPO Conference 2011, London. At one end of the spectrum are the buyers from top law firms/companies in the UK, Europe, the US, and other countries having off-shoring requirements. At the other end of the spectrum are the senior most executives of leading LPOs from countries such as India, Philippines, South Africa, Israel, Argentina, Northern Ireland, The Netherlands, Kenya, Mauritius, etc. Click here to visit the event site. Click here to view the Partners Information Page.


BSA/U is pleased to be a Supporting Organization for the Frost & Sullivan 5th Annual Customer Contact Asia Pacific event where industry stakeholders will meet to share & discuss strategic, tactical and operational issues facing the Contact Center Industry in Asia Pacific. Based on the Theme, "Next Generation Customer Contact: Driving Customer Experience through New Strategies, Technologies & Processes", the summit will comprise an up-to-date & exciting conference program (including a choice of concurrent sessions) designed to cover emerging industry developments as well as showcase best practices adopted by leading companies.


The International Contact Center Conference and Expo combines an industry conference tackling major industry issues and trends, a training and development program for contact center professionals, an exhibit of the latest products and solutions, and a job fair for industry professionals and fresh graduates.· earn best practices and case studies from around the world · Listen to insights from call center veterans and industry experts · Be updated on the latest trends and issues · Discover the newest contact center technologies and solutions


The Medical Transcription Industry Association of the Philippines, will be holding an event entitled "Healthcare Information Management Outsourcing Services: Bringing the Philippine Workforce to the 21st Century" in Makati City on August 10,2010. For information, contact MTIAPI.


The Cebu ICT & BPO Conference 2010 aims to gather the ICT & BPO industry stakeholders in Government, the Academe and Industry, in order to recognize 2009 achievements and to provide a venue for building the roadmap that would make Cebu a major ICT & BPO hub. The Conference will be on June 22, 2010 and the Exhibition on June 22 to 24, 2010 at the Cebu International Convention Center. For more information, please visit http://cebuictandbpo.com.

PROSPECTIVE PROJECTS/ BUSINESS OPPORTUNITIES
Legend: = New/Recent Opportunity, = Opportunity still available, [None] =Opportunity Closed


Effective 2011, the Secretariat has put new policies in place to streamline operations. Specialized opportunites are now emailed directly ONLY to qualifying providers. Opportunities that do not require BSA/U to submit pre-qualified providers will still be channelled through general announcements. Stricter measures are now in place for evaluating Partner Matches particularly for long-cycle, purely commission based outbound campaigns.

None

ARCHIVES:

August 1, 2011. Medical Alert hourly scheme: $8/hour/agent/day provided the rep will get 7 minimum valid transfers, anything above or below 7 valid transfers will get paid $7 per valid transfer NOTE: No calling data/leads will be provided

Diabetes campaign hourly scheme:NDA (National Diabetic Association) $8/hour/agent provided the rep will get 7 minimum valid transfers, anything above or below 7 valid transfers will get paid $10 per valid transfer. NOTE: NO calling data/leads will be provided. Posted leads must contain the original IP address, time stamp, source URL and clickable link to the audio recordings for each call

EDU (Educational campaign)$12 per valid transfer.NO calling data/leads will be provided

May 6, 2010. Timeshare/Travel Club appointment setting - weekly payout for confirmed appt. Various accounts enable you to choose time zones/marketing zones. Center to use own leads. Track record in the Philippines. Representated in the Philippines by Mr. Forand.

April 20, 2010 Newsflash: Direct feed from a Philippine Government agency to BSA/U: BEGIN QUOTE Mid-sized (400 employees) US-based not-for-profit organization, is seeking to outsource the operations and support of their HRIS environment to include the following functions:
HRIS Provisioning and Administration
Payroll processing
COBRA administration
FMLA/disability/leave management administration
Worker's Compensation administration
Employment eligibility verification
Background checking including criminal and other references
Compliance reporting and requirements (i.e. EEO/AA, etc.)
Safety administration (including OSHA compliance, ergonomics, etc.)
Employee recruitment and selection
Exit interviewing

They are currently running Lawson HRIS, but are not wedded to keeping it. They are interested engaging a vendor that can provide a turn-key solution that encompasses both the HRIS environment, as well as a select set of HR business functions. The lead executives for this engagement is asking for a short list of qualified vendors that provide all or most of these services. They are seeking a single provider solution with no fewer than 3 client references. If you meet this criteria, and are interested in learning more about this opportunity please respond to this email no later than April 23rd with a 1-2 page summary describing your company and offerings pertinent to the above END QUOTE

If you are qualified, please send us the information required by 4:00PM April 22, 2010 to enable us to consolidate.No further information available. You will be contacted if you pass the screening. Status: Closed

April 19, 2010. Australia Outbound Account. Call Center to offer membership for Stock Market tips, Trading Advice, Financial Education. etc. Customer pays an upfront fee to become a member and then an ongoing monthly fee. On the website, the upfront fee is A$699, Call Center can sell it for any price using voucher system and earn on markups above cost A$19. Process: 1.Telemarketing cold call is made and the lead is asked for their email address, 2. Introduction email goes out 3.Telesales call is made 1 or 2 days later and the sales script is gone through. Credit Card payment can be collected over the phone or done online by the customer. Weekly payout. Center responsible for own leads BUT leads for first 2 weeks can be provided so you can assess first. Philippine-based Trainer available. Localized statistics: Telemarketer can generate about 6 leads per hour. Conservative conversion rate 1 in 50 (1 in 25 in Australia, using selling price of A$500 - Philippine Centers can use A$250 for easier sales).

March 15, 2010. BSA/U launched today its starter facility for new entrants in the BPO industry. This is intended to incubate new BPO companies who are at experimental stage, or unable to put up capital for their own facility or not yet viable to pay full commercial lease rates for seats. The fully equipped 10-seat facility is offered at only $100/month (exclusive of VOIP costs) per seat per shift vs. commercial rate of $200 to $250 or higher. Site is equipped with HP machines + LCD + Headsets, multiple-provider Internet connections (Globe, PLDT and 4G). UPDATE: As of April 12, shifts 6AM to 1PM, and 3PM to 9PM have been taken. Update: Taken

March 10, 2010. Philippine office of a major multinational Insurance Company seeking well-experienced local provider to provide Consultancy services leading to provision of Customer Service Center services for customers in the Philippines in an outsource arrangement. Status: Closed. .

California-based Company specializing in providing outbound telemarketing solutions to companies in the Tourism, Real Estate, Finance, Medical and Telecommunications sectors in the US, Canada and Spainfor 10 years is seeking to farm-out outbound seats for Medical/Health Survey for power wheel chair. Medicare-provided prequalified leads to be given to Call Center. SalesStatistics: est. 6-7 per day @, $18 plus incentives. Live Web-based survey form filling, live CRM enables tracking. Weekly payout. American Trainer available in NCR, Philippines. Contract is direct with CA company. Targetting 300 seats in Philippines. Status: Closed

Jan 27, 2010. US-based Consultancy seeking partner to farmout SAP work to Philippine-based Company as partner. Company must be able to deploy experienced SAP professionals to Singapore for urgent Project Work on various modules. Terms and conditions to be detailed with shortlisted companies only. If your company is interested in this opportunity, please provide profiles of 10 to 20 suitable candidate-staff. You may choose to obscure/mark the staff name and client name. Please submit as ZIP or RAR file containing the 10 to 20 resumes plus a cover letter providing an overview of your company and e-mail to SAPProjects@bsau.org. Status: Closed.

Jan 27, 2010. US-based Company seeking to acquire exisiting, profitable Medical Transcription / Medical Billing Company within NCR with 100 to 200 seats. Must be willing to provide financial statements following the signing of NDA. Status: Closed.

Jan 4, 2010. Denmark-based Consultancy for export-oriented small and medium-sized Danish business firms seeking to outsource various work processes including market research,order handling, complaints handling, brochures production etc. Provider must be a generalist, with experience in full business cycles. Status: Closed. Recommendations submitted January 9.

Dec 27, 2009. Small Western Australia internet marketing and web development company seeking to remarket the services of generalist BPO Providers for office admin,web marketing, seo data entry/ data mining, accounting, payroll. 4-7 seats. Status: Closed. Recommendations submitted January 9.

Dec 19, 2009. BSA/U office will be closed for the holidays starting today. We will resume office operations on the first working day of the new year, January 4, 2010. We wish thank everyone for the support in the work we do. May 2010 be an even stronger year for the entire BPO industry!

Dec 14, 2009. Urgent requirement for US company to test pilot offshore Pharmacist work. Remote Pharmacist to provide education information and liaise over the phone with medical professionals. BPO must have experience in Health Care and staff must have medical background, and willing to undertake single-seat pilot for 2 months. Recommended 1. Status: Closed.

Dec 3, 2009. Space available in PEZA building Makati @ P350.00/sqm, dues P 75/sqm. Sizes (sqm): 38, 46, 55, 58, 60, 77, 84, 215, 240, 320, 479, 550. Select units can be combined. Status: Closed.

Dec 1, 2009. US financial services/401k appointment setting for 40-minute visit to home or business. $22 per confirmed appointment. Additional incentives might be given to high performing centers. Philippine Agent statistics (pilot run): 2 confirmations out of 4 appointments day. US trainer is now based in the Philippines - no charge for NCR-based Centers. Leads to be provided. View information kit

here

. Status: Closed.

Dec 1, 2009. Korea-based company seeking partner to complement its current operations in Ortigas doing Online English Teaching. NCR-based preferred, experience in OET preferred. Center staff will be trained on methodologies. Selected partners may also get opportunity to get live-transfer inbound (after sales, order taking) accounts for Korean companies serving expat community in Korea, and outbound accounts for Korean companies calling out to US. Cite relevant experience to aid us in selection process. Note: Korean language skill is NOT required. Status: Closed. 3 BPOs recommended,

Dec 1, 2009. US outbound account for localized business listing offered free for 30 days and $49.95/month, charged to customer via Credit Card or LEC (Local Exchange Carrier - charge appears on bill). $75 per sale. Leads to be provided. Note: this is a brokered account. Contract will be direct with US company. Center must commit 15-20 Agents. Reference statistics: average 2 to 3 sales/day for experienced Agents. Status: Closed.

The Center of International Trade Expositions and Missions (CITEM), will hold the 10th e-Services Global Sourcing Conference and Exhibition on 08-09 February 2010 at the SMX Convention Center, Mall of Asia Complex. e-Services a platform for IT-Enabled Services (ITES) players to meet, network, and build partnerships with investors and organizations contemplating an outsourcing relationship. The Exhibition showcases the region's ITES providers, while the Conference features industry champions and consultants in the ITES industry as speakers to share their experiences and expertise.

Nov 25/26, 2009: BSA/U Supported Event (Concluded)

BPA/P and BSA/U were the supporting organizations for Frost & Sullivan's 2-day Customer Contact Philippines 2009 in Manila (Philippines) November 25-26 at Sofitel. The successful summit brings together 100 delegates from Philippine-based companies including ePLDT, Ventus, Sykes, VXi, ACS, Teletech, Telus, I-Contacts, Sitel, 24/7 Customer Contact, Synnex, Citibank, AXA Life, Visayas KPO and many more including IT companies, banks, airlines as well as government (CICT, NTC). Learn more at http://www.frost-ccph.com or BSA/U CCPh page here.

| | |
| --- | --- |
| | |

We are awating our copy of the Conference CD at our office comprising the compilation of the relevant powerpoint slides & video. You are welcome to preview it or view excerpts of the event. It is for sale from Frost & Sullivan at $500.00. We can assist procurement in your behalf.

BSA/U Local Event November 20, 2009: Has the growth of your Company been driven only by one or few accounts and are the skills of your human resources match exactly with those accounts? You may be exposing your Company to higher risks than you thought. Your sustainability depends on new business development and readiness of your people is the key. Prepare your Company against the down turn by learning from this latest course offering: "Creating effective Project Teams for New Business Development".


Nov 16, 2009 FLASH: Client currently in the Philippines and available for Site Visit and Contract Signing until November 24, 2009. US-based BPO Company seeking to farm out outbound sales campaign to local BPO providers. Product is Search Engine Optimization subscription services, sold at $199/mo, Revenue model: one-time + recurring: Center gets $40 and residual (recurring) income of $10/month for each sale in excess of 30 per month. So Center revenue grows even if sales are steady (

illustration

). Minimum 5 seats, quota 50 sales per month. Full members get immediate endorsement. Campaign provider has been authenticated. Status: Closed

Nov 12, 2009: UK-based company seeking BPO provider to outsource its outbound lead generation and appointment setting for its market and business intelligence service to UK technology companies. Nov 25 Update: Rate is $4 per hour per agent plus bonus maximum of 3 agents for 3 days to trial the project. Rampup to 25 in January 2010, Click

here

for more info. Priority to be given to Members who have undertaken or on-going BSA/U-endorsed outbound campaigns. Nov 30 update: 4 members endorsed. Status: Closed.

Updated Nov 7, 2009. US outbound B2B (Doctors' Offices). Appointment setting only(no selling). . Offering $5/hour (up to $800/month per Agent) for 2 to 3 appointments set/day. Click

here to download

the overview. Full members get immediate endorsement. Campaign provider has been authenticated. Status: Closed.

October 15, 2009: US-outbound Vacation Club Appointment setting (no selling required). US$230 per show. Database/leads provided by Client.

Download full campaign details (6 .doc files in 1 .rar file).

Client authenticated by BSA/U to have history of complete, timely payouts. Full members get immediate endorsement. Status: Closed

October 5, 2009: US-based Company seeking BPO provider for Lead Generation for Loans and mortgage. Center shall be paid $5.00 per live lead sent for loan modification (remaining mortage $100T up) and debt settlement (owes $7T up). Center will NOT have to close sale and payment is NOT dependent on closing. Live transfer. Center MUST have recording and FTP site to upload recordings within 24 hours. 10 seats minimum. Center gets paid end of following week. Philippine-based trainer available. Sttaus: Closed

October 5, 2009: Outbound Lead Generation Campaign for television dish hookup. This is a Brokered Lead. Client will provide database. For leads to qualify, customers only need to agree to be called later by consultant to hear about offers. Center shall be paid $4.00 per e-mailed lead. Client requires 10 seats (potential to grow to 50), 9.5 dialing hours per day, 6 days a week. Calls must be recorded. Leads e-mailed by Center Monday-Saturday paid by the following Saturday. Status: Closed.

October 1, 2009: Canada-based (Quebec) Outsourcing Company seeking BPO provider capable of delivering for inbound, outbound voice services, non-voice services in BOTH English

AND

French. We are in preliminary stage of discussion with Client. Status: Closed. 0 endorsement.

October 1, 2009: : US-based company seeking Philippine online advertising specialists to advise on strategy to mount a Google keyword search campaign. Status: Closed (1 recommendation)

Sept 22, 2009: Hourly-rated Flash Developer (Animator, Programmer), HTML / CSS / JavaScript Developer, Mobile Developers urgently required by US client. Status: Closed.

Sept 4, 2009: Non-voice accounts, Fixed-rate voice accounts avaliable. Download campaign info below.
Business Directory Data Mining - $45/day/Agt (12)
Insurance Form Filling - $30-$70/day/Agt 10seats
Customer Survey (Voice) - $8-$10/hr/Agent 12-20
Status (Oct 1): Closed. 8 referrals being processed.

BSA/U Local Event August 24, 2009: Cascade training on Business ContinuityPlanning / Risk Management.

August 12, 2009. US outbound B2C Telco farmout. Philippine-based BPO Provider running the campaign since 2007 seeking to farmout to other local Call Centers to meet scale up request . Key terms of the offer: local contract (between Main Provider and Call Center), local statistics (vs. US-based statistics for new campaigns) based on track record of Philippine agents, local training for key people of Call Center (Personal expenses of Call Center staff during training to be covered by Call Center, or Call Center may opt to shoulder cost to bring Trainer to their site for on-site training instead). Statistics: New Agents close 3 sales per shift, Experienced Agents close 5 to 7+ sales per shift. Revenue: $12 to $20 per sale. Proven campaign. Proven reliable payouts from US. Seeking only 2 to 3 Call Centers. Status: Closed


BSA/U Supported Event (Concluded)

http://www.abf-asia.com/project/9563MC_BSAU.pdf

Organized by the Asia Business Forum and supported by BSA/U. Registration is now open! BSA/U members are entitled to 10% off. More event details here.

August 27, 2009: Australia-based Client seeking provider to handle Level 1 user support, general inbound enquiry support and inbound sales. Pilot run 1 to 3 seats, to grow to 6 to 10. Timeframe 3 to 4 weeks. Status: Closed



August 12, 2009. US outbound B2B Telco farmout. Philippine-based BPO Provider running the campaign since 2007 seeking to farmout to other local Call Centers to meet scale up request . Revenue: $12 to $20 per sale. Reposted.

August 6, 2009. US outbound B2B Appointment Setting. $5/hour, $800/month per Agent, performance subject to quota. With Philippine-based Representative. Reposted.

August 6, 2009: BSA/U Lead Coordinator Red Paredes was interviewed today by US-based Smart Money - Wall Street Journal following their interview with Oscar Sañez of BPAP and Secretary Roxas Xua of the CICT.

The prestigious magazine with a reach of 3.7 million readers is in the process of preparing an editorial that aims to transmit many of the country's most exciting and challenging current issues in the ICT sector. We are honored for the inclusion of our comments and views in the project.

July 24, 2009. UK Lead Generation. Home works, Gas, Electricity and Telcommunications. Status: Suspended due to insufficient information from Client.

July 14, 2009. US Outbound campaigns: Verizon, Loan Modification (live transfer), Grant. With local representative for onsite training of Agents. Trainer's expenses FAO Call Center. Status: Suspended due to insufficient information from Client

July 10, 2009. UK client seeking a local partner to pilot brand building/customer awareness outbound program and telesales. Hourly rate plus performance-based commisions (call out time is 0930-1700 GMT). Client open to arrangements and negotiations. Screened database to be provided. Pilot is 1 to 3 seats. Preferably with experience on UK accounts. Update: Endorsement completed.

July 6, 2009. US investor seeking acquire an existing call center/BPO in the Philippines doing annual revenue of about US$2 million. Update: Closed.

June 22, 2009. Inbound and Chat Support - US-based company seek to outsource 75 to 100 seats, 24 x 7. Ramp up to 150 in 60 days. Note: By invitation only to Gold Level members, with 500+ seats. Update: Closed.

June 15, 2009. Outbound Campaign Available - Telecom Industry (Canada). Client is Canada-based Company with exclusive contract to market and distribute the products and services of a Canadian Telecommunications company specializing in long distance services and the new and cheaper VOIP based home phones. The 5-page Information kit is available for download here. Non-members: Apply for membership here. Update: First batch endorsed for Contract signing. Next batch in progress for submission July. Status: Closed

Continuing Opportunity for Medical & Healthcare KPO Providers. Client is a US-based Consultancy that currently provides professional services to hospitals. Seeking Philippine-based BPO/KPO providers who render services in Medical & Healthcare (from basic services and telehealth to high value services such as teleradiology - xrays, CTs, and MRIs - at different levels). Must be HIPAA compliant. Please provide your list of services if you are interested. Update: Closed

Outbound Campaigns for Appointment Setting / Lead Generation. US-based Client seeking Call Centers to undertake commission based Outbound Campaign (Appointment Setting) for a Vacation Plan and/or Credit Rescore/ US Stimulus Plan Project. Open to all interested members - no pre-qualification stage necessary. BSA/U has been authorized to accredit Call Centers and endorse the same directly. Client has good track record of relationships with Philippine-based Call Centers. Contact us immediately if you are interested. Non-members: Apply for membership here . Update: Closed. Will reopen soon.

May 13, 2009: Buyer seeking to acquire existing 100+ seat Call Centers. US-based Client with operations in QC and Ortigas is seeking to acquire an existing Call Center, preferably operating with Inbound accounts. Purchase price will be based on assets and business valuation. If non operational, purchase price will be based on assets only. Must be located in NCR (except QC and Ortigas) or in major cities in Luzon. Preferably with space/option for expansion to 150 to 300. If you are interested in divesting, please send your proposal to us. Update: Closed.
BSA/U Supported Event (Concluded)

BSA/U supports the 4th Annual Customer Contact Asia Pacific Summit to be held 6-7 May 2009 in Kuala Lumpur, Malaysia

Event is organized by

Frost & Sullivan

. For more information, please visit the event website

http://www.frost-ccap.com

. BSA/U members are entitled to $100 off the early bird price. Don't forget to identify yourself as BSA/U member before signing up for the summit.

April 15, 2009: US Client seeking Bilingual Call Centers (Bahasa Melayu / English). A US-based company with a Philippine-based Representative/ Consultant is seeking a Call Center with bilingual capabilities, particularly Bahasa Melayu and English. Seats: 22 to 24, 24 x 7. Inbound/Outbound to/from Malaysia, database to be provided by Client. Urgent requirement. Please contact us immediately if you have this capability. Update: No qualifying bids.

April 4, 2009: Canadian Client seeking Virtual Assistant Providers. A Canadian company engaged in providing outsource services is seeking contact centers companies who can offer engagements of from 1 to 5 agents for sales, marketing, admin support, virtual assistant functions. Lead provided to BSA/U by the Special Trade Representative of Philippine Trade & Investment Center office of the Philippine Consulate General in the US. Update: Opportunity now closed.

BSA/U Supported Event (Concluded)



The Asia Pacific Project Management Conference will be held held on April 22nd, 2009 at Kuala Lumpur, Malaysia. The event is jointly organized by PMI (Project Management Institute), Malaysia Chapter and Processworks Group and supported by BSA/U. The conference aims to discuss, deliberate and share the approaches and methodologies that lead to successful projects. The conference objective is to be a confluence of best project management minds which would include consultants, trainers, experienced managers and project technology enabler. The conference focus is on areas such as Program Management, Managing Multiple Programs, PMO, Capturing Lessons Learnt, Project Risks etc. Project Management tutorials are scheduled April 20, 21,23 and 24. Download the full Program here. Visit the event website.
March 30/31, 2009: Workshop on IT outsourcing Legal Aspects to the EU

BSA/U was represented at the workshop jointly sponsored by DTI Bureau of Export Trade Promotion and CBI. CBI is the Center for the Promotion of Imports, an agency of the Netherlands Ministry of Foreign affairs.

March 25, 2009: Future of RP-US Relations Conference

BSA/U attended today the Future of RP-US Relations Conference at AIM Conference Center, organized by US-ASEAN Business Council and Center for Philippine Futuristics Studies.

March 16, 2009: US-based Client seeking single Philippines-based BPO Provider to outsource its full range of activities: Patient/Client case Manager work, 24/7 Call Center tasks, full range of Back-Office Accounting and Finance tasks, Insurance Claims processing tasks, International Traveler services, etc. BPOs with experience in healthcare patient management and/or medical claims processing will be prioritized. Client willing to train. Deadline March 27, 2009. Update: Closed. Client completed 6 site visits March 20 April 1, 2009.

BSA/U Supported Event (Concluded)t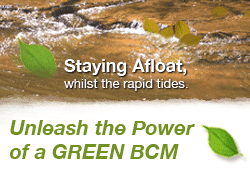 | | |
| --- | --- |
| G | Is your BCM program prepared for GAIA's climate change? |
| R | How RESILIENT is your organization in recovering after a crisis? |
| E | Is your business equipped in handling an EMERGENCY? |
| E | Is your business continuity plan ready to be EXERCISED? |
| N | What do you do NEXT to ensure that your BCM's health is green-lighted? |
With an alarming number of natural disasters attributed to climate change in this past year alone, it only highlights how essential business continuity management is to every business, regardless of size and location. This event has successfully completed. Click here for Press Release. BSA/U is part of the international network of Supporting Organization for the event. Click here for full list Supporting Organizations

IF YOU HAVE EXCESS BPO SEATS YOU WANT TO LEASE OUT, OR YOU ARE LOOKING FOR READY-TO -USE BPO SEATS FOR EXPANSION OR FOR QUICK SETUP PURPOSES, we can help you! If you want to lease your seats, send us your basic facilities information (location, number of seats, available seats, telco connections, workstation/PC, and pictures) and we'll take it from there. If you are seeking seats, send us your desired number of seats, shift, type of operation (inbound/outboud or BPO type) and preferred locations and we'll find a place for you. Send it to bposeats@bsau.org or contact us. We also provide Consultancy Services in setting up your BPO operations.